Click for larger image

Learning Journey
Techno Gears Marble Mania

215 Pieces
The set includes:
Spinners, Channels, Mills, Funnel, Pendulum, Gears, Gears Motor,
3-D Connectors, and More
Compatible with all Techno Gears products. Requires one "AA" battery. Recommended for ages five and up.

$50.00
($42.00+$8.00 S&H)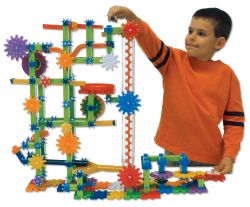 Click for larger image

Learning Journey
Techno Gears Marble Mania Extreme With Power Lifter

325 Pieces
The set includes:
Spinners, Channels, Mills, Funnel, Pendulum, Gears, Gears Motor,
3-D Connectors, and More
Compatible with all Techno Gears products. Requires one "AA" battery. Recommended for ages five and up.

$60.00
($50.00+$10.00 S&H)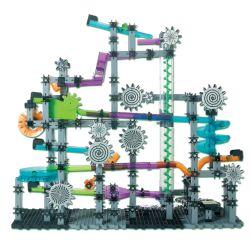 Click for larger image

Techno Gears - MEGA Marble Mania
This high tech version of Marble Mania has over 450 pieces allowing you to build a bigger and better marble run. New dual marble tracks, electronic sound chamber and a spiral track channel are just a few of the features of the Mega set. Techno Gears Mega Marble Mania will keep your "young architect" busy creating exciting working and moving creations. Requires one "AA" battery.
Ages 8+ years.

$69.00
($59.00+$10.00 S&H)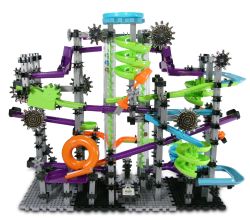 Click for larger
image
Techno Gears - Marble Mania Genius
The new Genius edition of Marble Mania is truly a work of art! This high tech set includes over 500 pieces of Marble Mania gear to keep your young architect busy for hours on end. Once built, watch the Genius come to life with exciting twists and turns, electronic sounds, loops and rotating gears. The Genius edition features 4 independent tracks for marbles to run, and all lead back to one of the dual power lifters on the system. This is a must have product for all those little Genius' in your home! Requires four "AA" batteries.
Ages 8+ years.

$85.00
($75.00+$10.00 S&H)