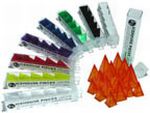 Icehouse Stashes
Yes we still have these we break down Treehouse set to makes these. So there is a slight premium charge for these.



$14.99 + $2.50 S&H



Unfortunatly there is a higher Demand for Orange, Cyan and Black. the Primary Reason for this is Black and Orange were not in the original boxed sets Zendo, or Ice Towers. and Cyan was a limited edition release several years ago and in now only in the Xeno Treehouse sets.



$17.99 + $2.50 S&H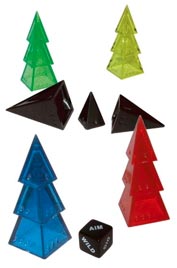 Treehouse is the exciting new pyramid game designed by Andrew Looney, the creator of the card game Fluxx.
For 2-4 players, each game last only 5-10 minutes - but you'll want to rack them up again and again each time someone wins.
Each player rolls the custom die to determine if they will TIP, SWAP, DIG, AIM, or HOP their Tree of three pyramids while they try to make them match the configuration of the shared goal called The House. Roll a WILD and you can change your own Tree or The House!
Tree House Comes in Two Color options Rainbow or Xeno
Rainbow has: Red, Blue, Green, Yellow, and Black
Xeno Has: White, Orange, Cyan, Clear, and Purple
Each set has 3 pieces of each color, 1 of each size, small, medium, large.
With one Treehouse set you can play Treehouse, plus any of the other single stash games that have been invented for the pyramids. Including: Rotationary, IceSickle and Tic Tac Doh.

$11.99 + $2.50 S&H