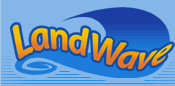 Skateboarding Ramp
Extreme Sports Ramp
A new changeable, stackable, ever-evolving super skateboarding ramp system!





LandWave™ is an expandable skateboarding ramp system. With LandWave™ ramp and deck pieces different ramps can be built. LandWave™ skateboarding ramps can be built higher, wider and longer! Build it any way you want. When its time for a change, try something else! LandWave™ uses two geometric shapes that lock together, giving skaters the ability to quickly and inexpensively build their own ramp system. It is a flat-bank design so it can become one long smooth ramp when stacked.

LandWave™ is designed to withstand 300 lbs., comes with rubber feet to make it stay put, and has a rough surface to give you great traction with skateboards, skates, or bikes.

Dimensions are 28 in. wide by 38.5 in. long by 12 in. high. Unboxed weight is 12 lbs.

Each unit is made of high-density, black polyethylene (HDPE), and easily connects to the other pieces to create an infinite number of possible configurations. Rubber feet are included with each unit to help prevent skidding on hard surfaces.

The LandWave™ concept is unique, and features our latest non-slip surface for superior traction. LandWave™ decks & ramps are
made in the U.S.A., with patents pending.

Watch The Land Wave Videos!



LandWave™ Deck
Includes 6 Connectors
$73.99 ($59 + $14.99 Shipping)



LandWave™ Ramp
Includes 2 Rubber feet
$69.99 ($55 + $14.99 Shipping)



Get 2 LandWave™ Ramps
Includes 4 Rubber feet
Save $14.99
$124.99 (Includes Shipping)



LandWave™ Skateboard
7 Ply Maple
FDJ Abec 3 Bearings
Unit Truck
Phantom Hardware
53mm Urethane Wheels
31.5in x 7.5in

$139.99 (Includes Shipping)


Discontinued



LandWave™ Connectors
6 Per Bag
Use these for stacking your Decks and Ramps
$7.99 (Includes Shipping)

LandWave™ Feet
2 Feet Per Bag
Rubber Feet for added Stability
$7.99 (Includes Shipping)

Not just a skateboarding ramp... it's so much more! Try it with some of the products on our extreme sports
page
for an Extreme Sports ramp!