Fast Set Pools by Bestway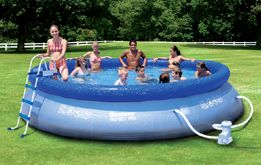 - Easy construction - no tools needed (Filter pump and ladder require a screw driver for assembly)
- Triple Strength, heavy gauge PVC side walls provide long lasting durability
- Liner is supported by an inflatable top ring
- Select a level surface, inflate top ring and pool rises as you fill it with water
- Easy break down for off season storage
- No sand needed
- All pools come with a free video showing pool set-up and maintenance
Extra strength side walls are made with 3 separate layers of material which provide long lasting strength and durability. The inner layer is a polyester mesh which is laminated to the two outer layers of triple strength, heavy gauge pvc. This creates a total thickness of 28-30 gauge depending on the size of the pool.

Pools
Our pools are sourced through Amazon. In looking for the best way to offer these pools to you at a good price, we have found that sourcing them through Amazon is our best option because of their free shipping. So, enjoy the pool selection below, and enjoy your savings! The Fast Set Pools are made by Bestway.



10' x 30" Fast Set Pool



includes pump




12' x 36" Fast Set Pool



includes pump

Easy Set Pools by Intex
Though we like to stick with the familiar, our original product, Bestway Fast Set Pools, are becoming harder to find. Intex offers a line of nearly identical "Easy Set Pools". The Easy Set Pool has an almost identical construction - accessories are even interchangeable! In the interest of availability, we are now offering sources to the Easy Set pool as well.
ALL POOLS below include the filter pump, unless noted otherwise.
We have been offering pools and related items for many years, and we DO NOT reccommend getting one of the Easy Set Pools WITHOUT a filter pump. The water WILL get very dirty and turn green!


8' x 30" Clearview Easy Set Pool

8' Intex Cover



10' x 30" Easy Set Pool



10' Intex Cover
(genuine 10' intex covers are hard to find right now!)


12' x 30" Easy Set Pool

12' Intex Cover



12' x 36" Easy Set Pool






15' x 36" Easy Set Pool



15' Intex Cover


15' x 42" Easy Set Pool

Complete Set!

note: This is an AWESOME deal because it includes your pool, the cover, a ladder, the groundcloth, AND instructional DVD all for one price! Highly reccommended, and at an amazing price with FREE SHIPPING! (at the time of adding this to our site, anyway!)



15' x 48" Easy Set Pool

Complete Set!

includes:

pool
cover
ladder
groundcloth
instructional DVD



18' x 42" Easy Set Pool

Complete Set!

includes:

pool
cover
ladder
groundcloth
surface skimmer
instructional DVD



18' x 48" Easy Set Pool

Complete Set!

includes:

pool
cover
ladder
groundcloth
surface skimmer
deluxe maintence kit
maintence DVD





Accessories






Filter Cartridges



Type "A"

Filter


BIFILCA III
4.25" x 8"


12' and 15' pools





(1 filter)





$11.74


($4.99 + $6.75 S&H)
12' cover
$20.99
12.99 + $8 S&H
Ground Cloths

Cloth for 8' or 10' pool
$17.99
$9.99 + $8 S&H





Chemical Floater



dispenses chlorine or bromine tablets
adjustable dial to control sanitizer level

$10.99
5.99 + $5 S&H

Pool Stuff
Beach Balls
Pool Floats and Lounges
Baby Floats
Water Wings
Swim Rings
Water Toys
Swim Gear
Fast Set Pools
Inflatable Pools
Slip n Slides
Water Balloons
Air Pumps